By Sam Lepore

Subject: WanderNorth 2 - Kirkland, Washington
Date: Sat, 02 Jun 2001 21:50:45 -0700

100,000 miles into Nirvana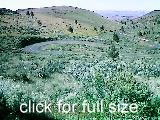 My bike turned 100,000 miles on its odometer as I crested the hill into what was once considered Nirvana on Earth. At least that's what the people believed who called this place Rajneeshpuram. Before them, and again now, it is simply the abandoned crossroad of Antelope, Oregon. A weathered meeting hall, a long gone mercantile, "city hall" in a refurbished shack ... refurbished 50 or 60 years ago, that is, and a modern portable trailer for the Post Office. That and a handful of houses fail to recall - or choose to forget - the glory of Rolls Royces and chanting followers of the Bagwan who visited himself upon this peacefulness. It was quite a story back then. On this late spring morning, as I roll unhurriedly past, one man unloading his pickup smiles and waves the greeting of the open spaces still common in the West, as if to say howdy stranger. I am surprised, and pleased, to see the residents are still friendly.
One hundred thousand miles. Unfortunately, I didn't see it click over. Concentrating on the curves and camber of the climb up the canyon, when I did my next sweep of the instruments, there was 100,002. Oh well, being lost in the bliss of a good ride is a better reward than the false significance of a counter going to zero. Nirvana is where you find it ... This fine metal beast has taken me from Mexico to Canada already and it cares not about numbers.
Speaking of numbers, the temperatures sure are weird. I expected variability on this trip, but I didn't expect the 102 in Bend yesterday to drop to 50 (for the high!) today only 50 miles away.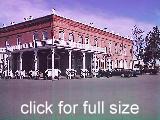 Hey, come on, it is almost summer. But it seems a lot changes within 50 miles. The long boring straights of south central Oregon are instead deliciously wrinkled writhing roads in north central Oregon. Bakeoven Road from Shaniko to Maupin is a real treat with unobstructed views of the Mt. Jefferson and Mt. Wilson volcanoes (when you can take your eyes off the road).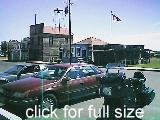 And Shaniko is one of those places you have to go to say you've been. I could tell you it is "worth going out of the way" ... but it *is* out of the way already. Shaniko is a ghost town with a population of 25. The old hotel was refurbished by a couple who retired from the hectic life, and is now a delightful bed and breakfast.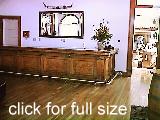 Good food in the small cafe, too.
Another change is the palpable shift from desert to rain forest. Dropping down the grade into the Columbia River Gorge is geography blasting you in the face. Blasting as in blowing wind. It is easy to see why this area claims the wind surfing capital of the world. These winds are the equal of the mariah of West Texas. Luckily, though, they stay in the gorge. Unluckily, however, so do the roads. I say to myself "I've ridden the Wind River in Wyoming ... this could steal the name." Then I turn right toward Mt. St. Helens - and find myself following the (Washington) Wind River!
If you are ever looking for 75 miles of the sweetest two lane road through high and low forest, follow NF 30, 24, 90, and 25 from Carson to Randle. Gorgeous views of the gorge :):) behind Spirit Lake. On a sunny day this would be incredible. On this day, however, it disappeared into a sudden rain shower. It has been a long time since I did the dance of the roadside rain togs, and with no place to stop under cover, by the time I could get my suit out I was already drenched. Yes, sir, nothing like wearing steamy duds under your hermetically sealed suit - which you finally get cinched just right as the shower stops. Such is the joy of motorcycling.
The evening BBQ at the home of Bob and Jean is well attended and even better provisioned. Bob is the only back yard barbecue-er I know who has 3 (or was it 4) grills. The international guest list (Harleys, Japanese, and German bikes) was well sated. Lunch on Saturday met at the now traditional gathering place of Cafe Veloce. (I like a place that puts artichokes, garlic, black olives, feta, *and* anchovies on fine pasta!) Again the guests were international, coming from Glennallen Alaska, to get warm, and Phoeniz Arizona, to get cool.
How odd it is for a group like this to be such close friends when most everyone among us prefers to ride alone.
346 miles
Madras US97 OR293 OR218 Bakeoven US197 WA14 FD30 FD24 FD90 FD25 US12 WA7 WA161 Oroville WA162 WA410 WA167 I405 Kirkland
P.S. As I was preparing to leave, it was amusing to watch a couple men be both enthralled and slightly embarrassed listening to one of our better known female riders describing the 'market research and product testing' she suffered through to find a satisfactory urination aid. (If you don't know ... taking alllll that protective clothing off takes time, and time is a premium in a competitive rally.) She gave gripping, dripping detail of why the Freshette™ is the best solution.
One of the listeners then warned with a nod toward me "ya know this is all gonna be on the Internet ...".
:) :) :)
(Reported by your humble scribe as a public service to those women who would rather avoid the research, but do learn from her mistakes and pay attention to which way the wind is blowing.)
_________________________
Sam Lepore, San Francisco

Previous Index Next
© 1997, 1999, 2000, 2001