By Sam Lepore

(Click map for full size)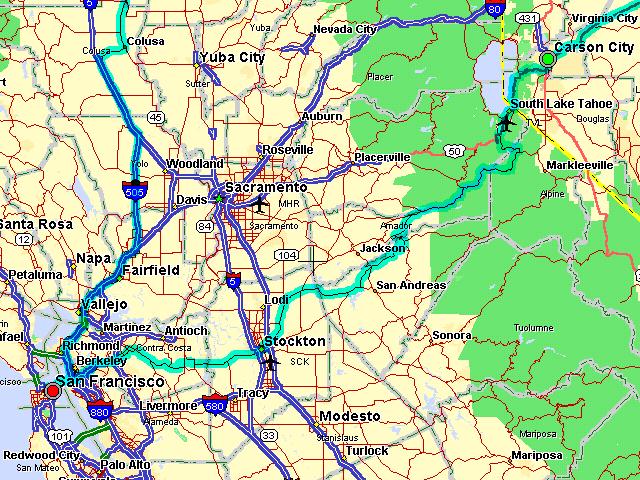 Subject: Wanderlust 43 - San Francisco, California
Date: Sat, 24 Jul 1999 15:10:17 -0700

On yet another bright, cloudless, and cool (for the desert) morning the magnetic attraction of the end of the trip was again luring me to rush - but I resisted with all the might of a practiced traveler. Some of the most awe inspiring scenery, even though well known to me, was yet to pass under my wheels ... and what is the point of rushing to get to the far side of heaven?
At a bakery in Carson City a couple stuck up a conversation about my motorcycle. As most well meaning car occupants do in such a conversation, they told me about the difficulties which people whom they know experienced on motorcycles. Invariably there is an accident mentioned. One son suffered a fall and decided to never ride again. Ok. At least they didn't come on with the normal rubric of bikes - instead of riders - being the cause. Their other son, however, represented their expected image of a motorcycle rider. He rode from Indiana to California, once, and his journey was the Iliad, the Odyssey, and the Idiotic Oddity all in one. Some riders, as is obvious by the description of this otherwise normal man, believe that positioning one's posterior on a motorcycle automatically projects a force field of masculinity - or at least a macho toughness that must not be diminished by creature comforts or even by compliance with ambient conditions. This rider crossed the desert in the heat of summer without benefit - excuse me ... without need - of helmet, faceshield, arm covering, gloves, or water.
The couple told me when he arrived his lips were swollen and cracked, his arms were badly sunburned, and he was near delirium with dehydration. They celebrated his survival, although not his intelligence. And then they asked why I did not look bedraggled "all the way over here in Nevada - several days from home". Huh? Oh, he only traveled about 100 miles a day, and even they might have to take two days to get home in their car. Well, I have to admit I like the facial expression of someone who is experiencing incomprehension when they hear I have been on the road for 33 days, traveled almost 8,000 miles, had no disasters, actually enjoyed it, and was still fresh. Although I supposed I could have told them of being abducted by aliens and gotten the same reaction.

US50 is lonely no more, being the main route through the Lake Tahoe area. Climbing nearly 4,000 feet in 10 miles west of Carson City, even in July it affords peeks of snow covered peaks, and offers a burst-into-view panorama of Tahoe that makes one think it is a sighting of the ocean. It is still stunning, although it must have been cruelly teasing for late season pioneers unable to pass through snows piled in unheard of depths, where four *feet* falling in a single storm is not uncommon.
"Lake Tahoe", by the way, is one of those redundantly repetitious :o phrases, like PIN=Number, ATM=Machine, and CHIMSL=Light. "Tahoe" means Lake in the local Indian language. Ah, so what's wrong with a little cross cultural obliteration? We do it frequently ... as with "The La Brea Tar Pits" in Los Angeles ... La Brea means The Tar Pits, which makes it The The Tar Pits Tar Pits. :)
Well, back to Tahoe. The California state line at Stateline, Nevada always amuses me. You can not walk across the line from California without stepping on a casino. The property line is the state line is the edge of the building for massive casinos on both sides of the street. Before that breath in your lungs is exhaled you can have your hands on a slot machine. Such convenience. What is California's answer to casinos? Why, T-shirt shops and souvenir stands of course. Disneyland, Pier 39, South Lake Tahoe, it is all the same. Good thing there is still the little matter of the Pacific Crest yet to come. Serenity awaits in the high country.

California's state colors are blue and gold. On a day like today it is apparent they were adopted from the environment. Crystal azure lakes, still cold from ice blue streams of melted snow, reflect the golden sun in a pastel blue sky. Purple paintbrushes intermix with golden California poppies, and bright blue spruce glisten on tawny granite hillsides sparkling with glints of fools- or maybe real gold. Even the blue van in front of me has a golden retriever hanging out the window chewing the air in great gulps of sniffles.
Near the top of Carson Pass there is an oblong pile of rocks beside the road recognizable as a pioneer grave. It even has an official historical site designation as Maiden's Grave. At one and a half miles above sea level, the view from this spot on the ridge is of unspoiled, rugged mountains. For the modern traveler, the word is exquisite. For the pioneer, excruciating. For the maiden, eternity. A marker is inscribed:
Broken dreams and hope carried 2000 miles through scorching deserts and over lofty mountains. At last ... the sight of the promised land. Laid to rest on a cold and frosty October 4, 1850.
Rechall Melton, native of Iowa.
A mere thirty miles later begins the Gold Country of the foothills.

Now the changes and the scenes are predictable to me for their familiarity, but still enjoyable. From alpine, to pine, to plains the vegetation changes in visible layers with the elevation. Eventually we descend past the 4000 foot level and I switch off the high-altitude plug for the first time in two weeks. The rolling hills of the Sierra slopes have seen no rains for months, and the grasses have returned to the golden summer slumber, which is to me the natural and comforting color of the countryside. Even taking another intentional detour through West Point to Mokelumne Hill just to ride a favorite, CA26, can't hide the fact that the end is near. There are the sprawling fields of grapes in the new wine country of Amador County (excellent Zinfandels and Syrahs), there are the feathery flexing fronds of the asparagus fields in the delta around Stockton, there are the outreach signs of the metropolis ... congestion and rushing traffic.
It is here I must remind myself to tune down the relaxation attitude and crank up the awareness to sub-agressive levels, after all it is said the majority of accidents happen within 25 miles of home :). Time to trade two-lane touring tolerance for four-lane-freeway frenetics. And just before the postcard image of The City, tethered by bridges and collared by fog, consumes my thoughts of the present, I flash back one last time on the pleasures of the past month. Memories made of miles. Faces of friends. Promises in private and in public. Life and longing. Wondering, and Wanderlust.

"It began in mystery, and it will end in mystery, but what a savage and beautiful country lies in between."
- Diane Ackerman, b. 1948, American writer

34 days, 1 hour of light rain and 1 drizzly afternoon
8,188 (s)miles

Sam Lepore, San Francisco
________________
Wanderlust Rider

Previous Index Next

© 1997, 1999